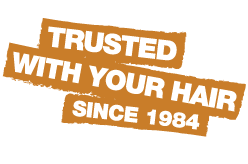 Trust
Our aim is to gain customers for life.  We want to be "your" hairdresser in the same way as you have a doctor, dentist or optician that you trust. To that end, everything we do will be with your best interest at heart, long term satisfaction, not short term profit!  We would never recommend an unsuitable service or product just to make a sale.

Cutting at Jeff Goodwin Hair
Our stylists are renowned for the quality of their cutting. A systematic, precision approach using every traditional and modern cutting technique is used to guarantee the accuracy of our work and every haircut is thoroughly checked. Ours cuts are carefully balanced and designed to fall into place so naturally that they can usually be blow dried with the minimum of effort and whatever tools and techniques you need to use at home, you can be sure we will show you how.  (And we promise not to cut off more than you want. Really!)
Colouring at Jeff Goodwin Hair
To offer the best colouring service around, we stock over 120 shades in permanent and semi colour, including ammonia free lighteners and gentle colour removers.  We can advise you on techniques which will give life to your natural colour, be it bold or subtle, cover your first few grey hairs or be bright, fun and funky.  Using over 30 traditional and modern techniques, whatever your colouring needs, we can meet them.

Please note:
All new clients having "on the scalp" colour must have a skin test 48 hours before the first application.  Please ask our reception team for details.
Brands at Jeff Goodwin Hair
We use trusted, professional brands from "salon only" manufacturers who provide premium quality products, always thoroughly tested and checked by us before we choose them for you.
We carry a full range of home haircare products and tools including prescriptive treatments and styling from REDKEN, a beautiful "sulphate free" shampoo range from KITOKO, brushes by KENT and LOTUS  and straighteners by GHD. All designed to help you to get the best from your hair. We only use what we sell, and we only sell what we use!