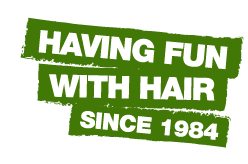 The Story Behind our 30th Anniversary Celebtration
When I started thinking of how I wanted to celebrate our anniversary, a whole year ago, I started with an idea that I wanted to connect with the community, to "get out there". 
I wanted to raise funds for charity too, one local, one national and one from the hair industry, to put something back. After a lot of thought, we chose, Great Ormond street hospital London, Hospiscare Devon and the Hair and Beauty Benevolent fund. 
So I thought we could "get out there" physically and do "pop up" hairdressing for a donation in various locations around the town. We needed an eye catching vehicle to do this, maybe a retro mini pick-up or similar, so I started to research online. Then I stumbled across a limited edition Piaggio Ape Calessino, produced to celebrate Piaggio's centenary, only 600 to be made worldwide, commonly known as a TukTuk, because of the sound it makes. Our celebration, their celebration, seemed like fate!
Not generally available in the UK, I imported one direct from India, where they are made, this is only the second one of its type in the country. 
I thought it would be good to play music from the TukTuk, to help attract a crowd, but what music should we play? Then while watching The Sunday Skyclub playing live at the South West Music awards, I thought, how about having our own song written, so I approached them and asked them to write us a song, in their own style, but containing the words, "Love Your Hair"!  They come up with three great songs, so we decided to use all of them and make it an e.p. which was produced and recorded at the Animal Farm Studios in London in the spring.
What about a CD cover then? Well as it was my intention to connect with the community, I decided to ask Exeter primary school children to design the cover. I made it a competition and offered the prize of a year's free hairdressing for the winning child and his/her parents, with the winning design being chosen by the band. I wrote to 16 local schools and only 1 agreed to get involved, Alphington, so over 400 of their pupils designed a cover, it was a tough decision, but the band chose the design of 5 year old Barnaby Channon. "Those cute little spiky haired orange dudes just make me smile!" said lead singer, Ed. 
Now the TukTuk will be touring the streets over Exeter with the "Love Your Hair" songs blasting from its sound system , offering to "rescue" people from a bad hair day by bringing them to the salon for a hairdo in return for just a donation. 
During our special year, the TukTuk will also be appearing at events around Devon, particularly supporting Hospiscare in their fundraising. 
The Sunday Skyclub will be appearing at venues around Devon and beyond and they will be selling CDs to raise funds at their gigs. They have already had their songs played on BBC introducing and we hope that their song "Heartbreaker" (love your hair), will be a big hit!
We aim to sell 1000 copies of the CD which is also available on iTunes and Amazon. That means that a supporter of our charities can make a donation and get three great songs into the bargain, with just a few clicks on a mobile or a computer, anywhere in the world! 
Please help us by buying a CD, telling your local friends to come and buy a CD and by telling everyone else you know to download it on the "net". We hope to raise at least £5000 during the year! Thanks to all involved!
Listen to "Heartbreaker" on our home page, then please click through to iTunes and buy it! Many thanks. JG.
From the Blog